Een tijdje geleden heb ik een heel goed boek gelezen: Euler's Gem: The Polyhedron Formula and the Birth of Topology, geschreven door David (Dave) Richeson, die ook een leuke weblog heeft (Division by zero).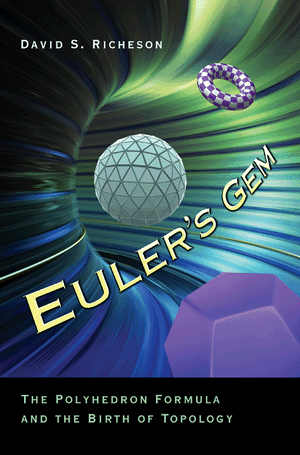 Ik heb het boek gerecenseerd voor de Mathematical Intelligencer (in het Engels, dus). De recensie begint zo:
''They all missed it.'' Richeson's book begins with a strong and clear motivation for one of his key points on the nature and the historical development of mathematics. ''It'' is ''Euler's Gem,'' Euler's polyhedron formula, one of the most beautiful formulas of mathematics (in fact, the author informs us, a survey of mathematicians found its beauty to be second only to \(\), also Euler's). ''They'' refers to all of Euler's predecessors who, though active in the field of geometry, failed to come across this elegant and, to our eyes, even obvious relationship.

Euler's polyhedron formula is elegant and simple: In a polyhedron, the number of vertices (\(\)), edges (\(\)) and faces (\(\)) always satisfy the equality \(\). For example, a cube contains 8 vertices, 12 edges and 6 faces, and indeed, 8 – 12 + 6 = 2.

But if this formula is so simple, why did no one think of it earlier, especially when, as Richeson explains, people had been fascinated by polyhedra for millennia?
Hier kun je het hele stuk lezen (pdf).
Het is geen gemakkelijk boek. Het vereist niet meer voorkennis dan VWO-wiskunde, maar je moet wel echt je best doen om mee te denken. Maar als je doorzet leer je een boel: het boek vormt een goede balans tussen wiskundige gedachtegangen, historische feiten en subtiele historische ontwikkelingen. Onderweg leer je, aan de hand van de veelvlakkenformule van Euler, waar het vakgebied van de topologie nou eigenlijk over gaat en hoe het ontwikkeld is.
Voor scholieren of andere mensen die liever in het Nederlands lezen over veelvlakken: wiskundedocent De Leuw heeft op zijn website een toegankelijker stuk over veelvlakken gezet, met opgaven erbij, zie hier.