De BBC zendt al een paar jaar het programma More or less uit op de radio. Van de website:
We like to think that More or Less has no particular subject.

Rather it touches on every subject, with the same calm authority.

We all use numbers in so many ways to argue about, understand, help make sense of the world around us.

More or Less hopes to make that task easier, more entertaining, more surprising.
Over wiskunde in de echte wereld dus, voor een breed publiek!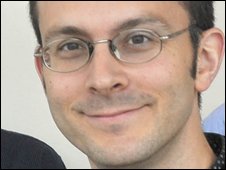 Presentator Tim Harford
Op 17 april is de nieuwe serie begonnen. De meest recente aflevering is online terug te luisteren, net als de oudere afleveringen in het archief.
Op de website staan een paar filmpjes, waarin programma-gasten uitleggen wat zij met getallen hebben. Marcus du Sautoy vertelt bijvoorbeeld waarom 17 zijn favoriete getal is. Leuk!