Soms levert een wandelingetje naar de boekwinkel een leuke verrassing op. Een tijdje geleden zag ik opeens een boek liggen dat mijn aandacht trok omdat het er mooi uitzag, en bovendien stonden er wat wiskundige symbolen op de kaft. (Later, toen ik het boek al uit had, kwam ik er achter dat er zelfs een hele rits decimalen van pi op de rand van het omslag, tussen de voorkant en de binnenflap, staat.) Het was "The Housekeeper and the Professor" van de Japanse schrijfster Yoko Ogawa.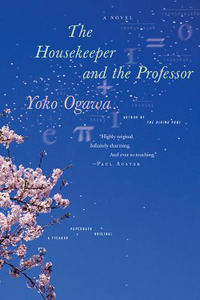 Ik kocht het, en het viel zeker niet tegen! Het boek gaat over een huishoudster die aan de slag gaat bij een man met een bijzondere handicap: door een ongeluk werkt zijn geheugen niet meer goed. Zijn korte-termijngeheugen duurt tachtig minuten, en verder heeft hij alleen zijn herinneringen tot 1975 nog. Voor het ongeluk was de man een wiskundeprofessor en hij weet dus nog steeds veel over wiskunde. Hij kan niet meer werken, maar geniet wel van het oplossen van de problemen in de problemenrubriek van een wiskundetijdschrift.
De wiskunde blijkt een mooie manier te zijn om met de professor te communiceren. De eerste ontmoeting (die zich natuurlijk dagelijks min of meer herhaalt) gaat als volgt:
When I tried the doorbell on Monday, it seemed to be broken.

"What's your shoe size?"

This was the Professor's first question, once I had announced myself as the new housekeeper. No bow, no greeting. If there is one ironclad rule in my profession, it's that you always give the employer what he wants; and so I told him.

"Twenty-four centimeters."

"There's a sturdy number," he said. "It's the factorial of four." He folded his arms, closed his eyes, and was silent for a moment.
De professor blijkt een begaafd docent te zijn:
The one topic we could discuss without any worry was mathematics. Not that I was enthusiastic about it at first. In school, I had hated math so much that the mere sight of the textbook made me feel ill. But the things the Professor taught me seemed to find their way effortlessly into my brain - not because I was an employee anxious to please her employer but because he was such a gifted teacher. There was something profound in his love for math. And it helped that he forgot what he'd taught me before, so I was free to repeat the same question until I understood. Things that most people would get the first time around might take me five, or even ten times, but I could go on asking the Professor to explain until I finally got it.
Het boek gaat over de relatie tussen de huishoudster, haar zoon en de professor. De zoon en de professor blijken allebei van baseball te houden, al geeft ook dat complicaties doordat de professor nog leeft met de spelers uit 1975 in zijn hoofd. De professor heeft een koosnaam voor de zoon:
We called him the Professor. And he called my son Root, because, he said, the flat top of his head reminded him of the quare root sign.
Het boek is erg mooi geschreven en geeft een intiem portret van deze drie mensen en de invloed die ze hebben op elkaar. Je gaat als lezer vanzelf ook een beetje van ze houden. Een grote aanrader!